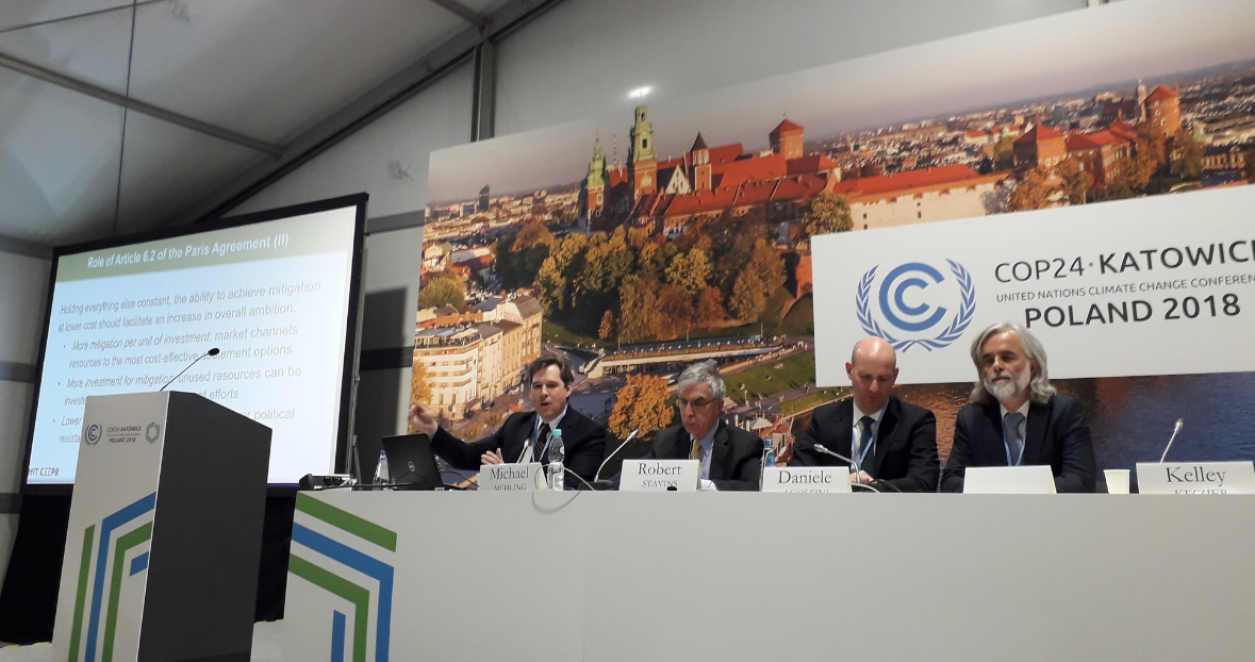 As the 24th meeting of the United Nations Framework Convention on Climate Change (UNFCCC) Conference of the Parties (COP) entered its decisive week in Katowice, Poland, with the arrival of the high-level political representatives for the final negotiations, Enel Foundation and Harvard co-hosted a side event to discuss the implementation of the article 6 of the Paris Agreement.
Attracting an audience of over 200 COP participants, the official side event, co-hosted by Enel Foundation and the Harvard Project on Climate Agreements, featured the presentation of an original paper authored by Michael A. Mehling: "Governing Cooperative Approaches under the Paris Agreement", serving as the basis for a panel discussion.
Distinguished speakers analyzed progress in elaborating Article 6 and what remains to be done, with reference to the potential of Article 6 to enhance ambition by promoting voluntary cooperation between parties to achieve Nationally Determined Targets.
In his opening speech, Michael A. Mehling, Deputy Director of the Center for Energy and Environmental Policy Research at the MIT commented, "experience has shown that mature and liquid markets rely on diversity of participation. That's a strong argument against outright exclusion of non-Party actors, including private entities, from cooperative approaches under Article 6. Also, empirical data tell us that some concerns may be misplaced, such as fears that Article 6 may incentivize countries to weaken future mitigation pledges".
Robert Stavins, A.J. Meyer Professor of Energy & Economic Development from John F. Kennedy School of Government at Harvard University and Director of the Harvard Environmental Economics Program, emphasized that "International linkage of national climate policies can provide the means to lower abatement costs dramatically and thereby to give countries the latitude to increase the ambition over time of their respective contributions". Moreover, the expert noted, "Article 6.2 of the Paris Agreement can provide the key mechanism for carrying out such linkage under the Paris Agreement without compromising environmental integrity. Michael's Mehling's excellent research shows how this can be accomplished".
Daniele Agostini, Head of Low Carbon and Energy Policies for Enel commented Article 6 potential for helping set up an International Carbon Market saying "trading emission reductions mechanisms need to be seen as a means to an end where the end is greater ambition not an easy way out".
The discussion in front of a packed Room in Katowice was based on practical experience with market mechanisms, academic research, and a close reading of the Paris-Agreement negotiations with an institutional view, offered by Juan Pedro Searle, Head of Climate Change Unit, Ministry of Energy and Mines from Chile.
The Enel Foundation and the Enel Endowment for Environmental Economics at Harvard University have supported a series of annual discussion papers on climate-change policy and related topics in energy policy, prepared by the Harvard Project on Climate Agreements, of which Mr. Mehling's contribution is the eighth and most recent paper.
The Harvard Project on Climate Agreements identifies and communicates scientifically sound, economically sensible, and politically pragmatic public policy options for addressing global climate change. The Harvard Project's research focuses on policy architecture, key design elements, and institutional dimensions of international and domestic climate-change policy—and draws upon leading scholars and policy practitioners from around the world.
---
For further reading