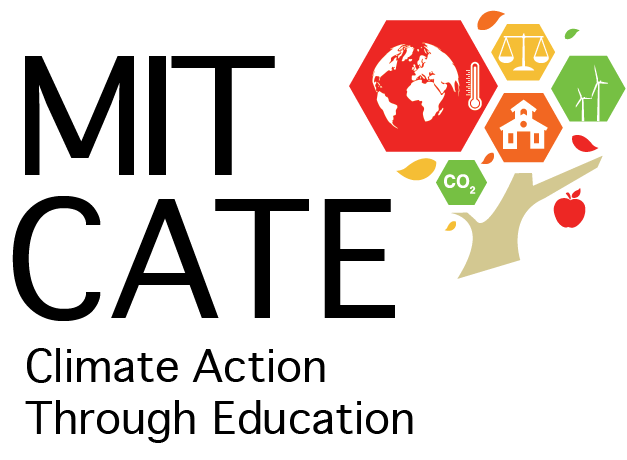 The MIT Climate Action Through Education program, directed by Professor Christopher R. Knittel, is developing an MIT-informed interdisciplinary, place-based climate change curriculum for U.S. high school teachers in the following core disciplines: History/Social Science, English/Language Arts, Math, and Science.
Curricular materials – labs, units, lessons, projects – will be aligned with relevant U.S. education standards and tailored to each U.S. state. The solutions-focused curriculum will inform students about the causes and consequences of anthropogenic climate change, while equipping them with the knowledge and sense of agency to contribute to climate mitigation, adaptation and resilience. Topics include, but are not limited to: Environmental Justice, the Greenhouse Effect, the Industrial Revolution, UN Sustainable Development Goals, household energy use, and the cost of solar and battery storage over time. Each lesson, lab, unit, or project can be used as a standalone, with time commitments ranging from half a class period to a month.
MIT CATE Team
Managed by Aisling O'Grady, the team has grown to include five curriculum developers:
Amy Block, Math teacher at the Governor's Academy in Byfield, MA
Lisa Borgatti, Science teacher at the Governor's Academy in Byfield, MA
Gary Smith, Physics teacher at St. John's Preparatory School in Danvers, MA
Michael Kozuch, History teacher at Newton South High School in Newton, MA
Kathryn Teissier du Cros, Language Arts teacher at Newton North High School in Newton, MA

MIT CATE is also supported by Northeastern co-op student Aunjoli Das and Winsor High School students Julia Bae and Anaya Raikar.
The MIT CATE Project has formed a Curriculum Review Committee to evaluate the materials and to provide feedback. The Committee is comprised of the following MIT faculty members:
About the Curriculum
The keystone of the materials will be the incorporation of MIT resources and research, like:

Materials will also feature:
An emphasis on climate solutions and place-based learning components
Integration with leading U.S. education standards, like NGSS and Common Core
Options for integration across disciplines, with other lessons

The free, openly accessible curriculum will launch in Fall 2023. It is written by practicing high school teachers and incorporates feedback from teachers, students, and MIT researchers. 
Our work is informed by our nationwide survey of over 100 high school teachers. This survey informs us that: 96% of teachers think it is important-extremely important that climate change be taught in high schools; 83% of teachers feel that curricula on climate change is relevant to their learning objectives for students; and the top reasons that climate change is not taught in class is that teachers do not have enough time to incorporate lessons and are unaware of sufficient resources.
Want to get involved?
Stay tuned for our Fall 2023 launches:
Free, open-source climate curriculum Fall 2023
EdX climate course for educators launching Fall 2023 (September goal)

More information coming soon about our J-WEL Climate Toolkit for Design Thinking project, including:
Phase 1: Design Thinking Professional Development materials for high school teachers, focused on research and identifying feasible local climate solutions

Stipend program for use of these materials in the classroom (open to global high school teachers, limited funding available)

Phase 2: Spring 2024 undergraduate MIT course – Using Design Thinking to Tackle Localized Climate Impacts

Potentially focused on problems identified by teachers in the first phase

LIFE! In a Sustainable City classroom game, inspired by Distributed Effects of Climate Policy: A Machine Learning Approach by Tomas W. Green and Christopher R. Knittel
Focused on UN Sustainable Development Goal 11: Sustainable Cities and Communities
Carbon pricing with dividends as an equitable climate policy

The program is written into MIT's Climate Action Plan for the Decade and sponsored by CEEPR, the MIT Energy Initiative, and the Vice President for Research. For information about MIT CATE, contact Aisling O'Grady at aogrady@mit.edu.
MIT CATE is jointly sponsored by: